reparations for slavery guide
Ready to stay current on the reparations for plantation slavery issue?
Save time when it comes to researching reparations news, events, conversation and more on the web, and be able to get involved to voice your support of reparations when events happen!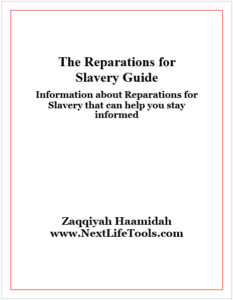 You can get an instant download of interactive and always current Reparations For Slavery Guide! Here is what you will have at your fingertips when you claim your copy:
The latest news on reparations for plantation slavery
Valuable information resources related to reparations for plantation slavery for use anyway you see fit
Up-to-the-minutes deep-dives into the background issues and subtopics related to reparations for plantation slavery
Product information to help you put your APPROVAL for reparations for slavery into daily action
The Reparations For Slavery Guide can show you exactly what's happening with reparations for plantation slavery movement on a daily basis, help you find news, events, and more on the web quickly, and give you the quickest route to voice that you are FOR reparations when your voice is needed.
The regular price for this interactive guide will be $25…
…but, it is available NOW for a price of $7.
Click below to claim your Reparations For Slavery Guide now…
[simpay id="633″]
NextLifeTools.com, 11152 Westheimer #178, Houston, Texas 77042